"If you are free, you need to free somebody else. If you have some power, then your job is to empower somebody else." ~ Toni Morrison
Welcome to Part 2 of Salary Negotiation Tips from White Men in Tech. This project is designed to help close the gender wage gap by sharing anonymous research gathered from the group that continues to earn more than every demographic in America regardless of skills, education, and experience.
In case you missed Part 1, Marcus Carey and Jennifer Jin released the @tribeofhackers book and inspired me to get back to researching to make my digital book a physical reality in 2019.
Then one of my favorite hackers @iancoldwater tweeted one of the questions that I'd planned to cover in my salary negotiations chapter: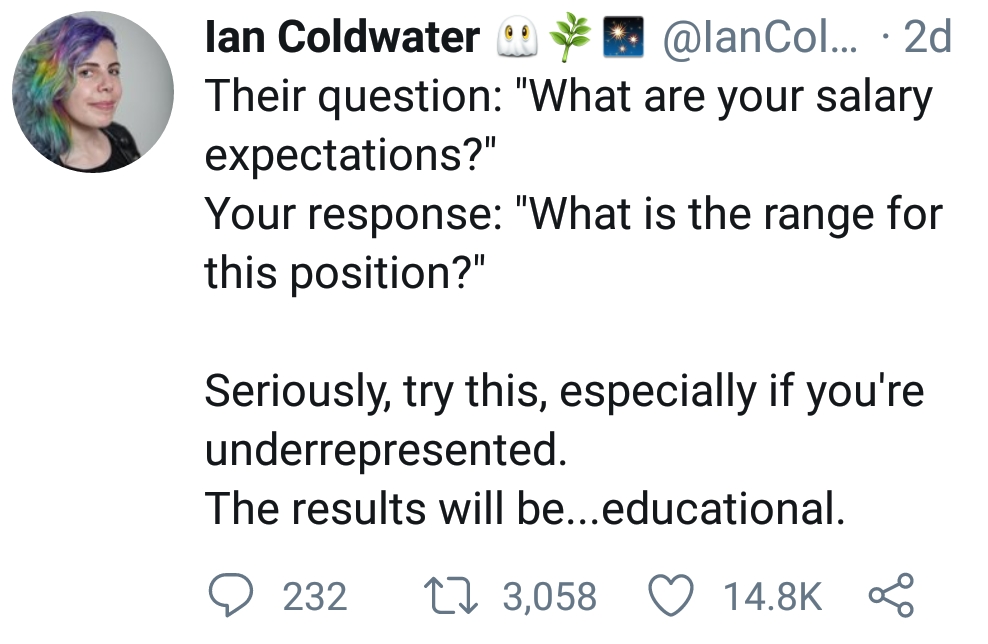 This is an excellent response, but for some, it is the beginning of a longer conversation that some are not prepared to have.
I have been in the unfortunate position of having that response and being unprepared for follow-up questions, so I wanted to use research to help others navigate some of the dialogue that happens during negotiations.
I considered reaching out to successful women to answer the questions, and I still may. But I decided to ask white men in tech because they seem to have the secret to getting higher salaries.
Hired, Inc. released their State of Inequality Wage Inequality In the Workplace Report in early 2018. They found that "63% of the time, men were offered higher salaries than women for the same role at the same company. The report found that companies were offering women between 4% and a whopping 45% less starting pay for the same job. Women in tech also tended to undervalue their market worth, asking for less pay 66% of the time, and would often ask for 6% less salary than their male counterparts."
Tanya Tarr @nerdette By The Numbers: What Pay Inequality Looks Like For Women In Tech, Forbes, April 4, 2018
The Innovation Through Inclusion: The Multicultural Cybersecurity Workforce Global Information Security Workforce Study by Sullivan and Frost takes it even further, showing that women of color are paid an average $10,000 less than white men, receive raises less often, and are severely under-represented in senior management.
Studies also show water is wet.
With this in mind, I reached out to a few men to ask if they would be willing to share salary negotiation tips with women. They agreed under the condition that they could remain anonymous. I asked them to share with women how they should approach answering following questions:
What are your salary expectations?
What is the salary range you're after? (because companies know we're hip to asking for a range instead of a number now)
We cannot move forward without a number. What is the minimum base salary you will accept?
Any other advice you would like to share?
I'd originally planned to compile all my research before publishing, but that could take weeks (months?). Instead, I decided to publish it as time permits.
They shared tips and tea!
Even though a lot of this will spark "well of course they are able to negotiate like this, they are white men!" reactions, I encourage you to read it with the intent to be empowered.
What are your salary expectations?
Engineer 1:
I'm flexible with base salary; I try to think of total comp. I often find that culture and opportunities carry a lot of value. For example, with my current employer I commit to 5 hrs/day that overlap with coworkers and ensure all my goals are met regardless of when my hours are worked (I'm a nightowl or early bird).
Let me know your salary range, stock grant, etc and I'm sure we can find the right mix of compensation and amenities if the role is a good fit. Can I get a copy of your employee handbook (for vacation, 401k, and other benefit details)?"
Editor's note: during a recent Twitter discussion, we discovered that it is fairly common for companies to include paid time off and travel accommodations for men who speak at conferences or do other work that is mutually beneficial to the org while women are not offered the same benefits.
Ladies, if public speaking, webinars, technical advising, or other external projects are a part of your career portfolio, do not leave money on the table. Try to negotiate paid time off and corporate sponsorship as part of your total compensation package.
What is the salary range you're after?
I'd rather talk about total compensation and other negotiable amenities. Salary is part of what motivates me to (insert callback to a success we've previously discussed that I can tie to their needs).
If we are a good fit I'm sure you'll be above the salary I need to meet my needs, and we will be able to work out the rest.
We cannot move forward without a number. What is the minimum base salary you will accept?
If we can't talk total comp, the minimum I'll take is (20% more than current) but that assumes you'll be equal or above all the other negotiated benefits at my current role. I don't want that number to close doors for you or for me.
Any other advice you would like to share?
Whenever possible wait to change jobs until after a raise or bonus appears. – ask the new company to "make you whole" on unvested options / RSUs. "I've got $100k over the next 4 years if I stay put. I'd need you to make me whole on that number or I couldn't really consider walking away at this point.
(Aside: I did this once and the HR recruiter told me "we don't do that" so I negotiated more increase to base to get close to that number in salary over 4 yrs. after I was hired. Maybe 2 months later I had lunch with that recruiter because I was hiring for open positions on my team.
He told me how he had just secured a senior exec to our group but it was tough because he had to true up her old employers stock options. I said "wait, you told me we didn't do that. I walked away from $x!"
I went to my boss and said "hey, I'm really feeling like I got short changed here" and relayed the situation. They retroactively reissued me an offer letter that kept my higher negotiated salary and added back a bit more than the stock true up I'd requested.
I did have to produce a brokerage statement to confirm the account balance before the options from the previous employer got withdrawn following my departure.
Editor's note: I'd give anything to be treated fairly for a day. Not special, just fairly.
Engineer 1 is based in Silicon Valley.
What are your salary expectations?
Engineer 2:

Before applying, I set a stretch salary, the salary I want, and the salary I'll settle for. This gives me three reference points to keep in mind when negotiation time comes. If they don't even blink at my stretch salary, I've low-balled myself and I know I have room to grow.
What is the salary range you're after?
I don't answer this question. If they can't or won't provide a range, it means they're trying to low-ball me or they're trying to hide coworkers with very low salaries. Neither of those is a good sign about the employer.
We cannot move forward without a number. What is the minimum base salary you will accept?
I've been caught out by this lie early in my career, and it was a valuable lesson. If the hiring team (HR or otherwise) are willing to lie about "needing" a figure for a form, they're going to lie about anything of value in the future.
I learned from a more experienced coworker, after getting the job, that this is never true. That company cheated me out of training money and opportunities, annual bonuses for keeping costs down, and a raise until I caught on to the fact everyone else around me was getting all of that stuff. Lesson learned.
Any other advice you would like to share?
Ask about education opportunities and reimbursement, ask about the review cycle, and ask about performance bonuses and "merit" raises.
Any company that says they have a cap on their maximum annual raise is lying to their employees. It may require a manager "fighting" for an employee, but it's absolutely never impossible. A company that would rather lose a valuable employee due to market pressure isn't a company anybody should work for anyway.
Something else I find myself asking about more is charitable giving. I want to know if employees or the employer are the kind of people that feel they want to give back to their community.
None of us make it alone, so it's good to bring others along with us. If a company or their employees see no reason for charity, I see an organization of selfish people. Selfish people will do anything to get ahead, including ruining your career.
Editor's note: Speaking of not making it alone…while doing research for my book last year, I learned that less than less than 6% of schools in low-income U.S. school districts require personal finance and less than 17% of American students need personal finance courses to graduate.
In addition to infosec community volunteer work, I am a volunteer for Junior Achievement through my job teaching personal finance and career readiness to local students through our corporate partnership. I suffer from TryingToSaveTheWorlditis.
While you're leveling up, I encourage you to think about contacting your local Junior Achievement office to offer your time teaching financial and career readiness skills to under-served communities. You could change the course of someone's life just by caring enough to show up.
If you're currently in a low-income school district or one of 83% people who attended a school with no financial literacy courses, try to get Junior Achievement resources in your local school. That way, you can gain access to the skills you need and teach students. Details are available on the website by zip code at www.juniorachievement.org.
We can multi-task: let's hack the gender pay and financial literacy gaps!
Engineer 2 is based in the U.S.
What are your salary expectations?
Engineer 3:
I always have a range in mind before taking the meeting. That range is typically 20%+ more than my current salary. I then state that I'll be flexible depending on bonuses and total comp.
What is the salary range you're after? As stated previously, I always have a number in mind. I usually ask how the comp structure is comprised. In my portion of tech, bonuses and commission are commonplace. If those are included, I adjust my number accordingly. I am risk adverse so I front load base salary. If bonuses have a huge upside, I'll flex on the base pay.
Editor's note: I recall Auntie @ReignofApril suggesting that women ask for 25% more than they want and heads exploding. She made this suggestion as a way to begin closing the gender wage gap.
I've noticed a recurring theme of men saying they ask for 20% above what they are currently making, so it sounds like she's right on the money.
We cannot move forward without a number. What is the minimum base salary you will accept?
I've never actually received this question, but I would approach it just as I would the other previous questions. Do your research, be confident in your value, and confidently state your salary demands.
What is the minimum base salary you will accept?
This number has to be enough to maintain your life style. Personally, I'm risk averse. I front load base salary and accept lower bonus structure. Ultimately, bonuses aren't typically guaranteed. I don't want lackluster sales performance to cost me my compensation.
Editor's note: companies calculate bonuses based on a number of variables. Sales may be just one. This is why it is important to understand the bonus structure so that you can make an informed decision about whether it makes sense to accept the promise of a bonus that may not materialize in return for a lower salary.
The government shutdown was an abject lesson for everyone. If any part of bonuses were tied to revenue from the government, then that could impact payouts. Likewise, some bonuses are determined by team performance beyond your control or you could find out you were working for an Enron.
Do your homework!
Any other advice you would like to share?
The most important thing when negotiating salary is confidence. Know your number and go for it. Don't waver. Don't say things like "well I make X now, but I want to make Y. The lowest I could accept is X." You will end up getting X plus a small amount every single time.
Engineer 3 is based in the U.S.
Editor's Notes: Adrian Sanabria @sawaba developed a Salary Comparison Worksheet for #BsidesLV #HireGround. He invites everyone to test, copy and bug test it. Click here to access it.
A few people mentioned that Levels.fyi has better salary data than other online salary guides. Click here to learn more.
Click here to see a running list of states and localities that have outlawed pay history questions on hrdive.com
If you missed Salary Negotiation Tips From White Men in Tech: Part 1, you can click here to read it.
SUBMIT SALARY NEGOTIATION TIPS
If you are a white man in tech/InfoSec and would like to participate in this anonymous Salary Negotiations research study, feel free to copy/paste the questions below with your answers in this Contact Me form and submit!
What are your salary expectations?
What is the salary range you're after?
We cannot move forward without a number. What is the minimum base salary you will accept?
Any other advice you would like to share?
Pay equity benefits everyone, including you when you want to fire your awful boss or face health issues and bae has to keep the family afloat. Just like the author above, the only identifying info will be title, sector, and state.
Keirsten Brager is a Lead Security Engineer at a Fortune 500 power utility company, @tribeofhackers contributor, and was one of Dark Reading's 2018 top women in security quietly changing the game. She is also the author Secure The InfoSec Bag: Six Figure Career Guide for Women in Security. She produced this digital book to help women strategically plan their careers, diversify their incomes, and fire bad bosses. Keirsten holds a M.S. in Cybersecurity and several industry certifications, including Splunk, CISSP and CASP. As an active member of the Houston security community, Mrs. Brager has participated in a number of panels and public speaking engagements promoting strategies for success. In her free time, she loves blogging, cheering for her beloved Saints team, and convincing women not to quit the industry.